Too Many Subarus Suffer From Spotaneously Cracked Windshields
Posted on

Author

Tagged
Key Points
There's been a surge in complaints about cracked windshields in Subaru vehicles since their switch to acoustic glass around the 2015 model year.
Subaru has offered a "quality assurance" warranty extension to certain Outback and Forester owners.
Other owners not covered under the warranty extension have filed a consolidated class-action lawsuit seeking reimbursements for the expensive repairs.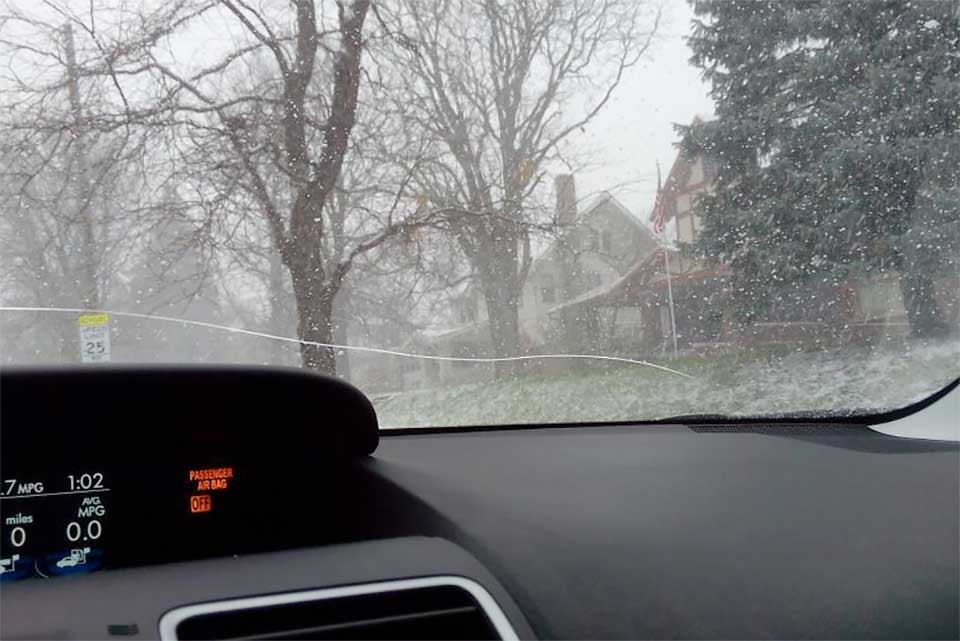 Chances are you've probably heard a rock hitting your windshield hard enough to crack it at some points. It's jarring and not a lot of fun. But at least you can explain what's going on.
It's a different beast entirely when the cracks form in the windshield spontaneously. Especially on newer car with only a few thousands miles on the odometer.
Or to cars that are just sitting at a stoplight when the crack forms. Or resting in a garage overnight.
A Few Possible Explanations ∞
Unlike a chipped windshield, where the crack starts from the point of impact and slowly spiders out over time, these cracks are developing quickly and often starting at the bottom of the windshield where the wipers are located.
But why?
The switch to acoustic windshields ∞
An acoustic windshield has more sound dampening capabilities than a normal windshield. The added layers of soundproofing can make a significant improvement to reducing wind, tire, and other outside noise while driving.
It's a nice improvement, but they might not be all they're cracked up to be considering complaints about this problem took a steep turn around the same time Subaru made the switch to acoustic windshields.
De-icer adhesion issues ∞
During a warranty extension to 2015 and early production 2016 Legacy and Outback vehicles, Subaru explained that certain compounds used to adhere the deicer to the lower portion on the windshield created a situation where "the glass become more susceptible to cracking following a minor wound" due to some outside force.
Cost cutting and fuel efficiency considerations ∞
Another possible explanation is the thickness of the windshield glass itself.
Subaru vehicles tend to get good gas mileage, but glass is heavy and shaving a few pounds off can boost a car's MPG ratings. Glass is also expensive and so shaving off a few pounds can also boost the CEO's net worth.
Implications of a Constantly Cracking Windshield ∞
Cracked windshields are expensive enough to replace on their own. But, according to many owners, the costs don't stop with the glass.
EyeSight needs to be recalibrated when the windshield is replaced. And Subaru won't do that for free.
It can interfere with the proper deployment of airbags and can reduce the structural integrity of a vehicle in a crash.
All of which is to say, you need to get it replaced quickly. And that's not cheap.
TSB Leads to a Warranty Extension for Certain Outback and Forester Vehicles ∞
In TSB #12-192-15R, Subaru acknowledged that the "ceramic materials used for the black-colored printed perimeter combined with the silver-colored material used for the wiper deicer portion of the windshield glass" is the root cause of many windshield failures.
Subaru offered a "quality assurance" program by extending the windshield warranty from 3 years/36,000 miles to 5 years/unlimited mileage for 2015 and early-production 2016 Legacy and Outback vehicles.
Subaru also offered reimbursement options for owners who had previously paid for repairs, but eligibility requirements made it nearly impossible to receive full reimbursements. They also refused to reimburse anyone who used a 3rd party, like companies their insurance might have suggested, if the company didn't replace the windshield with OEM glass.
The deadline for reimbursements passed on February 1st, 2016.
A Series of Lawsuits Says Subaru Didn't Go Far Enough ∞
Since the extended warranty was offered to just a couple 2015 models, Subaru has faced multiple lawsuits regarding their outright refusal to cover the cost (and related costs) of numerous windshield replacements in newer models.
Plaintiffs say the windshield defect poses an "imminent and significant safety hazard" and that the switch to "acoustic glass" that is to blame for the multitude of failures.
Cases consolidated ∞
Two cases, Leon and Powell, were consolidated into one class-action covering roughly 2.5 million vehicles:
2017-2020 Subaru Forester
2017-2020 Subaru Outback
2017-2020 Subaru Crosstrek
2017-2020 Subaru Legacy
2017-2020 Subaru Impreza
Unfortunately the Ascent was dropped from the list.
In March 2020, Subaru asked for a motion to dismiss saying the cases do not allege that Subaru vehicles fail to comply with federal safety standard #205.
They also claim the cases are too broad and consist of "two different design generations of four of those five models." Which is a problem for the case's credibility because Subaru used multiple windshield suppliers over that period of time.
Of course, that could just mean they were all incompetent, but that is up to a judge now.
OK, Now What?
Maybe you've experienced this problem. Maybe you're concerned you will soon. Whatever the reason, here's a handful of things you can do to make sure it gets the attention it deserves.
File Your Complaint

CarComplaints.com is a free site dedicated to uncovering problem trends and informing owners about potential issues with their cars. Major class action law firms use this data when researching cases.

Add a Complaint

Notify CAS

The Center for Auto Safety (CAS) is a pro-consumer organization that researches auto safety issues & often compels the US government to do the right thing through lobbying & lawsuits.

Notify The CAS

Report a Safety Concern

The National Highway Traffic Safety Administration (NHTSA) is the US agency with the authority to conduct vehicle defect investigations & force recalls. Their focus is on safety-related issues.

Report to NHTSA