Subaru Takes a Crude Stance on Oil Consumption
Posted on

Author

Tagged
Key Points
Subaru's F-series engines have looser tolerances and burn through more oil than their predeccesors.
Subaru maintains that as long as the engines are not burning more than 1/3 of a quart per 1,200 miles it's within "normal specifications"
We recommend getting an oil consumption test which might result in having the engine short block replaced.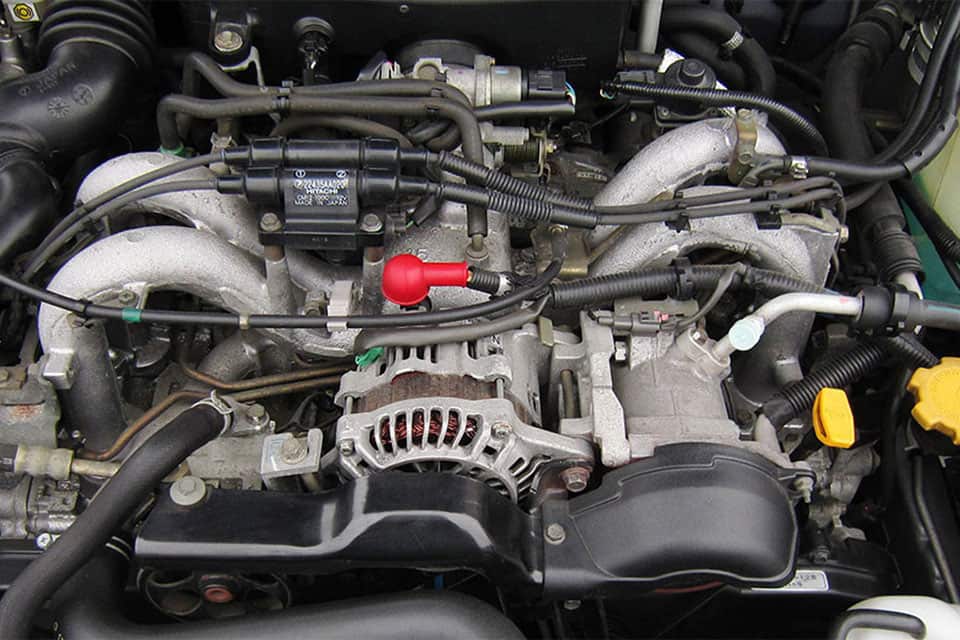 Newer Subaru engines are burning through a noticeable amount of oil, but is it normal? Depends on who you ask. Subaru believes that losing 1/3 of a quart per 1,200 miles is within "normal specifications" while owners are left wondering why they continually need to top off between oil changes or risk permanent damage to their engines.
How Better MPGs May Have Created the Oil Consumption Problem ∞
Automakers have been scrambling to keep up with rising EPA fuel economy regulations and consumer demand for better MPGs. Subaru, in particular, faced a steep climb. The Boxer engine isn't the most economical design and their bread-and-butter standard AWD requires more power, creates additional friction, and adds to the vehicle's unsprung weight.
Switching to a continuously variable transmission (CVT) helped because it keeps the engine in a more ideal RPM range (it also has plenty of drawbacks too). But they had to take it a step further when introducing their newest F-series engines.
Loosening tolerances and thinner oil ∞
One of the keys to achieving higher MPGs is to reduce friction inside the engine. Subaru tackled this two ways with the F-series:
They lowered tolerances and loosened things up like the oil control rings, pistons, valves, and valve guides.
They switched to a 0W-30 fully synthetic engine oil which is super thin.
Thin oil + loose engine parts is a solid recipe for oil leaks. So it's no surprise that these engines have problems with oil sneaking past the control rings and valve guides where it then burns off in the combustion chamber.
Here's a great breakdown of how Subaru engines have changed and why it's a problem.
How Much Oil Consumption is Normal? ∞
Subaru believes that burning through 1/3 of a quart of oil per 1,200 miles is normal and within specification. They've added a new section about oil consumption to their owner's manual and posted The Truth About Oil Consumption which can be summarized as:
All engines burn oil.
You just didn't notice it before because change intervals were 3,000 miles.
Now that recommended change intervals are 6,000 miles the oil consumption rate is catching up with the mileage.
Our take? Yeah a little bit of oil is always going to burn of but there's something different about these newer engines. They're burning more oil early on than their predeccessors which doesn't bode well for the future as the engines wear and loosen even more.
It's also not consistent and speaks to potential manufacturing problems. While many owners will be within that range of 1/3 of a quart per 1,200 miles, others report burning though an entire quart every 2,500 miles. No wonder Subaru owners often travel with a couple extra quarts of oil in their trunk at all times just in case.
How can I tell if my car is consuming too much oil? ∞
Keep an eye and ear out for the following signs of oil problems:
Watch for little puffs of bluish-gray smoke coming out of the tailpipe during idle.
Listen for engine ticks while driving under load
And for the love of everything if a little oil can warning light pops up on your console do not ignore it.
You can hear the ticking noise in the following video. You can also see just how dangerously low these engines can get on oil in a short amount of time.
This is not a Subaru-only problem ∞
In its annual survey of car owners, Consumer Reports found that a significant number of 2010 - 2014 owners needed to add an extra quart (or two) of oil in between changes.
The magazine focused on survey data from 498,000 owners of 2010 to 2014 models, finding that 98 percent did not have to add oil between changes. Of course, that 2 percent represents 1.5 million cars on the road.
They found that a few engines from three major manufacturers were the primary offenders:
Subaru's 3.6 liter six-cylinder and 2.0- and 2.5-liter four-cylinder engines.
Audi's 2.0-liter turbocharged four cylinder and 3.0-liter V6
BMW's 4.8 liter V8 and 4.4 liter twin-turbo V8
Service Bulletins, Lawsuits, and Oil Consumption Tests ∞
Subaru has issued a number[1] of technical service bulletins (TSB) about oil consumption in the past. The latest, titled Surface Treatment Change To Oil Control Piston Rings (TSB 02-157-14R), indicated the following owners may be eligible to have their engine short block replaced under warranty:
2013-2014 Subaru Legacy and Outback Models with 2.5L FB Engine
2011-2014 Subaru Forester Models with 2.5L FB Engines
2012-2013 Subaru Impreza and 2013MY XV Crosstrek Models with 2.0L FB Engine
Before that, Subaru's fix was to change the surface treatment of the oil control piston rings (TSB ##02-145-13R).
Class-action lawsuit leads to settlement ∞
In July of 2014 a class action lawsuit was filed against Subaru over oil consumption concerns. The plaintiffs allege that worn piston rings let oil sneak past and can drop oil levels dangerously low in the engine.
"The lawsuit says Subaru knows about the issue because it issued four technical service bulletins to dealers about excessive oil consumption. Subaru dealers were told to replace the piston rings for any customer complaining about burning through oil.
Replacing those piston rings requires pulling the entire engine and can cost upwards of $8,000.
Without admitting fault, Subaru agreed to settle the lawsuit in 2016. Under the terms of that settlement, the automaker agreed to provide a free oil consumption test in addition to extending the warranty to 8 years/100,000 miles.
Requesting an oil consumption test ∞
In order to be eligible for a short block replacement, you must go to an authorized Subaru dealership and request an oil consumption test.
Under the test, the dealership will change your vehicle's oil and oil filter and then ask you to drive, as normal, for 1,200 miles. When you reach 1,200 miles you bring the car back and they measure the volume of oil left in the vehicle.
If the vehicle has consumed more than 1/3 of a quart (or 10.6 ounces) it may be eligible for a short block replacement. Anything less and it'll be considered operating as expected.
Long-Term Concerns ∞
Unfortunately, even owners that have had their short block replaced have noticed continued problems with oil consumption. Because of the way they've been designed these engines essentially sacrificed oil efficiencies for fuel efficiencies.
In terms of the vehicle's longevity, that's not a great trade off.
It will get worse from here ∞
It's concerning that these problems are happening while the engines are still relatively new and after short block replacements.
Problems that didn't usually appear until 150,000+ miles are suddenly popping up under 50,000 miles. What's going to happen as these engines age, wear down, and loosen up even more?
It's not just about oil ∞
Over time as oil burns off in the combustion chamber it creates carbon deposits. And those deposits build-up on spark plugs, oxygen sensors, and the catalytic converter. Not only will this make the car run less efficiently, but it greatly reduces your chances of passing an inspection.
And then any savings on fuel will quickly be eaten away by having to replace these parts, perhaps multiple times over.
---
Lawsuits Regarding This Problem
Lawsuits about this problem have already been filed in court. Many times these are class-action suits that look to cover a group of owners in a particular area. Click on the lawsuit for more information and to see if you're eligible to receive any potential settlements.
Lawsuit claims some of its most popular models burn oil at an expensive and excessive rate. The lawsuit, filed in a New Jersey federal court, alleges the cars are defective because the piston rings wear out early and can cause engine failure while on the road.
Generations Where This Problem Has Been Reported
This problem has popped up in the following Subaru generations.

Most years within a generation share the same parts and manufacturing process. You can also expect them to share the same problems. So while it may not be a problem in every year yet, it's worth looking out for.
Further Reading
A timeline of stories related to this problem. We try to boil these stories down to the most important bits so you can quickly see where things stand. Interested in getting these stories in an email? Signup for free email alerts for your vehicle over at CarComplaints.com.
What Owners Say About This Problem
OK, Now What?
Maybe you've experienced this problem. Maybe you're concerned you will soon. Whatever the reason, here's a handful of things you can do to make sure it gets the attention it deserves.
File Your Complaint

CarComplaints.com is a free site dedicated to uncovering problem trends and informing owners about potential issues with their cars. Major class action law firms use this data when researching cases.

Add a Complaint

Notify CAS

The Center for Auto Safety (CAS) is a pro-consumer organization that researches auto safety issues & often compels the US government to do the right thing through lobbying & lawsuits.

Notify The CAS

Report a Safety Concern

The National Highway Traffic Safety Administration (NHTSA) is the US agency with the authority to conduct vehicle defect investigations & force recalls. Their focus is on safety-related issues.

Report to NHTSA