Subaru wants you to know that adding a quart of oil to your new engine every 1,000-1,200 miles is perfectly normal. It's not.
Subaru is one of a handful of automakers accused of making new engines that excessively burn through oil. And they'll you that's ok, in fact they say adding a quart – or two – between scheduled changes is totally normal.
We don't agree.
"Normal Specifications"
Subaru considers one quart burned for every 1,000–1,200 miles to be within "normal specifications." That means if you follow their recommended changing schedule, which is usually 5,000 miles, you'll probably need to top of your oil reservoir 4 times or so.
Subaru's director of corporate communications, Michael McHale, is on record as saying:
"The rate of consumption can be affected by such factors as transmission type, driving style, terrain, and temperature."
Two quick opinions on this:
That sucks. Because synthetic oil – which is pretty standard in newer engines – is going to cost you about $9/quart.
It is normal for an engine to burn some oil as they age. It is not normal for new engines to burn this much oil.
You shouldn't need to "carry a quart of oil_1 with you in case you need to add it to your engine on the side of the road."
The Consumer Reports … Report?
In its annual survey of car owners, Consumer Reports found that a significant number of 2010 - 2014 owners needed to add an extra quart (or two) of oil in between changes.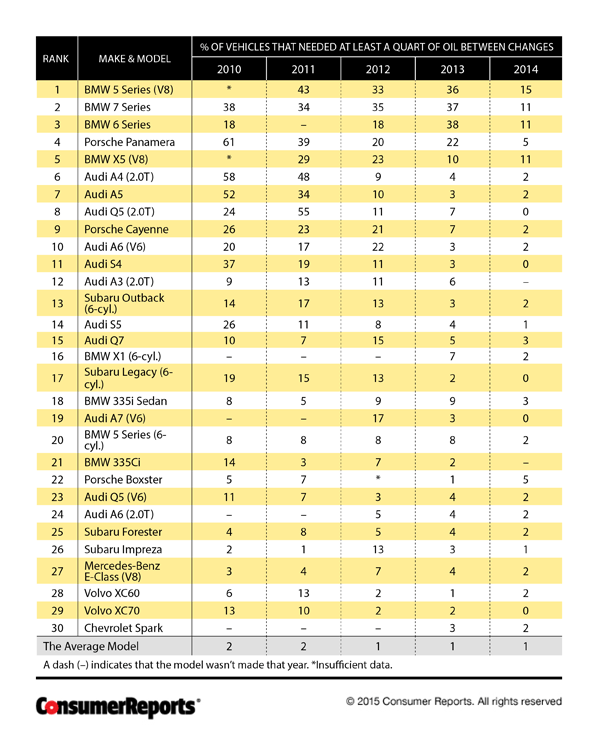 The magazine focused on survey data from 498,000 owners of 2010 to 2014 models, finding that 98 percent did not have to add oil between changes. Of course, that 2 percent represents 1.5 million cars on the road.
They found that a few engines from three major manufacturers were the primary offenders:
Subaru's 3.6 liter six-cylinder and 2.0- and 2.5-liter four-cylinder engines.
Audi's 2.0-liter turbocharged four cylinder and 3.0-liter V6
BMW's 4.8 liter V8 and 4.4 liter twin-turbo V8
These oil-guzzling engines should be covered under most new vehicle warranties, but owners who brough it up to Subaru said the company shields itself behind fine print, technical specs and diversions.
You shouldn't need to "carry a quart of oil with you in case you need to add it to your engine on the side of the road."
A Class-Action Lawsuit
In July, 2014 a class action lawsuit was filed against Subaru saying some its most popular models burn oil at an excessive and expensive rate. Specifically the lawsuit points to an alleged problem with the piston rings which can wear out early and lead to engine failure.
"The lawsuit says Subaru knows about the issue because it issued four technical service bulletins to dealers about excessive oil consumption. Subaru dealers were told to replace the piston rings for any customer complaining about burning through oil.
If an owner wanted to fix the issue by replacing the piston rings, they can expect to pay $8,000 because the entire engine needs to be pulled from the car.
Does it Stand a Chance?
The case is not without precendent. In September, 2014, Audi agreed to settle an oil consumption class action lawsuit. But the judge in that case did side with the automaker on many key points:
All cars use oil and oil consumption issues have been disclosed in the owners' manual.
The engine warning light does come on if oil is running low, so plaintiffs had enough time to act.
Oil consumption is a maintanence issue, so plaintiffs can't establish that an actual defect exists.
As part of the settlement, owners and lessees were reimbursed for any free repairs and an extended warranty. Something I think most Subaru owners would be happy with.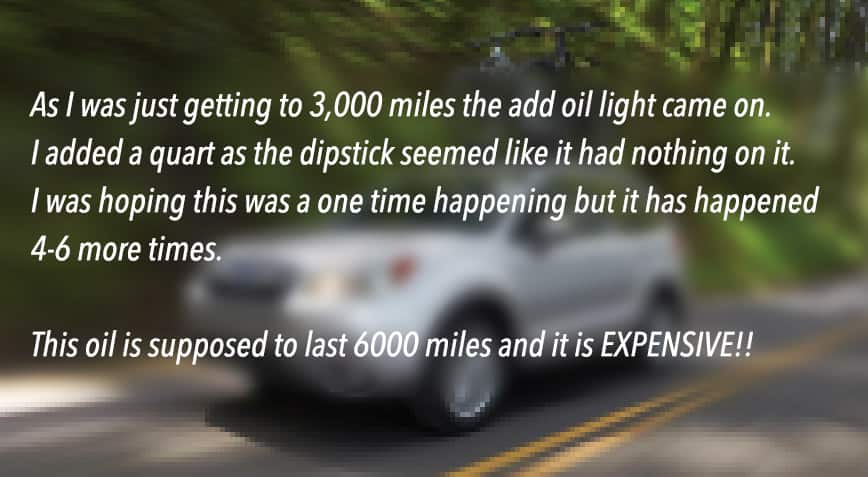 Subaru's TSB for Excessive Oil
Subaru issued TSB 02-157-14R, titled Surface Treatment Change To Oil Control Piston Rings, in which they indicate a course of action for correcting the oil consumption issue in the following models:
2013-2014 Subaru Legacy and Outback Models with 2.5L FB Engine
2011-2014 Subaru Forester Models with 2.5L FB Engines
2012-2013 Subaru Impreza and 2013MY XV Crosstrek Models with 2.0L FB Engine
Before that, Subaru's fix was to change the surface treatment of the oil control piston rings:
On affected vehicles, Subaru will replace the piston rings at no charge under the provisions of the cars' warranty. On vehicles out of warranty, customers will have to pay for their vehicle's repairs—a major out-of-pocket expense, since the engine has to be disassembled, piston rings installed and the engine reassembled, plus any other parts that were damaged as a result of oil loss, gaskets and fluids.2
So it may be that the original blocks weren't honed for the new rings. In a lot of cases, the rings were wearing prematurely, so maybe they were wearing the cylinder walls as well?
Recently an Audi TSB advised owners to "always have a spare quart of engine oil in case the engine oil needs topping off while on the road." ↩

From Opposite Lock's article on Excessive Oil Consumption ↩