2019 Crosstreks Recalled to Replace Rear Seat Belt Assemblies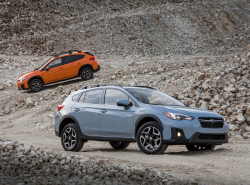 Subaru says the rear seat belt assemblies in the 2019 Crosstrek aren't going to properly protect people in a crash. They believe the pawl springs were improperly installed in about 5,500 vehicles.
The faulty pawl springs can cause the webbing sensor locks to fail. Which is a fancy way of saying buckling up isn't going to do much good in a crash.
Back in January Subaru announced a similar recall in other countries where dual-mode locking mechanisms are a requirement. For whatever reason it took them a couple months to decide to offer the same recall repair to owners in the USA and Canada.