Over 200,000 Subaru Vehicles Recalled Because their Denso Fuel Pumps Are Failing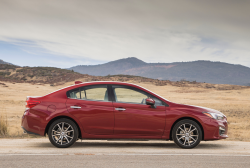 A group of 2019 models equipped with Denso low-pressure fuel pumps have been recalled after multiple reports of the engine stalling out.
The impellers inside the pumps may have been excessively exposed to a drying agent during manufacturing. This can cause micro-cracks that absorb fuel and expand over time leading to swelling and deformities.
Once the impeller can't properly rotate inside the pump, fuel stops going to the engine, and bad things start to happen.
At least 245 fuel pump warranty claims have been filed.
The recalled vehicles include any 2019 Ascent, Impreza, Legacy, and Outback manufactured between April and July of 2018.
The impellers inside of Denso branded fuel pumps may have been excessively exposed to a drying agent during manufacturing. This leads to them cracking, absorbing fuel, and deforming so badly that they stop sending fuel to the engine. Subaru