Subaru Wants Windshield Lawsuit Dropped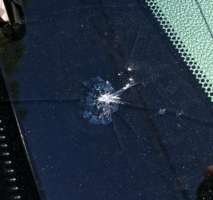 "Our windshields may crack, but we didn't break federal safety standard #205" appears to be Subaru's defense in court against a class-action cracked windshield lawsuit.
The motion to dismiss says the plaintiffs' argument lacks standing because the breadth of vehicles included consists of two different design generations where Subaru used multiple windshield suppliers.
So ... maybe they both suck?
Subaru's warranty does exclude coverage for "any part which malfunctions, fails or is damaged due to objects striking the vehicle, road hazards" but not spontaneous malfunctions like many owners have complained about.