Denso Fuel Pump's Deformed Impellers Recalled Because They Stop Sending Fuel to the Engine
Posted on

Author

Tagged
Key Points
Low-density impellers inside Denso branded fuel pumps are cracking and limiting the amount of gas reaching the engine.
An internal investigation found the impellers were over-exposed to a drying solvent during manufacturing.
Subaru recalled over 200,000 vehicles in April of 2020 to replace the impellers.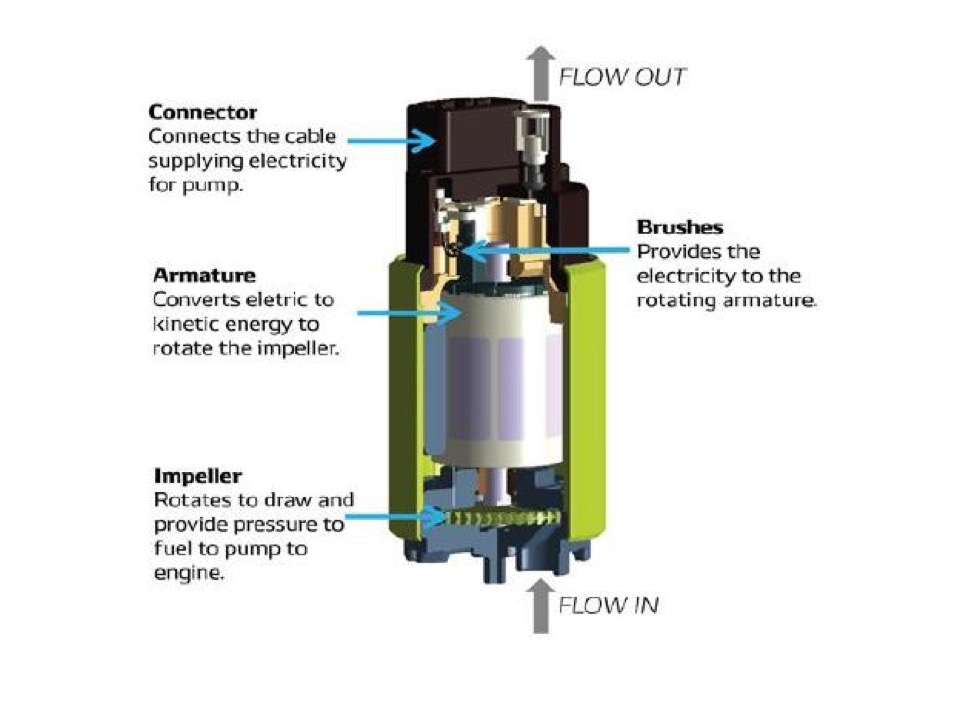 Denso's low pressure-fuel pumps, which can be found in certain Subaru vehicles, are failing because of an internal defect.
Fuel pumps manage the flow of gas from the tank to the engine. But Denso's pumps use low-density impellers that can crack, absorb fuel, and deform to the point that they interfere with that flow.
Without a reliable stream of fuel, it's only a matter of time before the engine runs rough, becomes difficult to start, or stalls out in the middle of the road.
The Impeller Problem ∞
Fuel pumps are a critical component in the vehicle's fuel injection system. Subaru uses two – a low-pressure pump in the gas tank, and a high-pressure pump further up the line.
The low-pressure pump uses a rotating plastic disk, known as an impeller, to draw fuel from the tank and impel it up the line towards the high-pressure pump. If the impeller can't rotate properly, which is often the case with these Denso pumps, it won't be able to draw fuel.
Problems downstream ∞
Once the low-pressure fuel pump stops reliably moving gas, it hurts multiple components further "downstream."
The high-pressure fuel pump won't have enough lubrication and can overheat.
The engine will eventually run rough, and the excess shaking causes premature wear on the rubber mounts for the engine and drivetrain.
The shaking can also damage materials in the catalytic converter.
Internal investigation ∞
Subaru says they received 32 complaints about the low-pressure fuel pumps between July 2019 and January 2020. Of those complaints, 75% indicated the engine wouldn't start, while the other 25% said the engines lost power while driving at low speeds.
Subaru engineers collected the failed parts and found cracked and deformed impellers that couldn't spin because they interfered with the pump body itself.
The internal investigation concluded that the low density impellers were exposed to a drying solvent for a long period during manufacturing. This over-drying creates fine cracks that slowly expand as they absorb fuel.
Engineers narrowed the manufacturing dates of affected vehicles down to anything built between April and July 2018, but that date has been disputed.
Subaru Recalls Over 200,00 Vehicles ∞
Recall #WRD-20 was announced back in April 2020. Subaru offered to replace the low-density impellers with higher density impellers that aren't as prone to cracking.
The list of affected vehicles included:
2019 Ascent
2019 Impreza
2019 Legacy
2019 Outback
Using their engineer's advice, the recall was limited to vehicles built between April and July of 2018.
Canadian lawsuit believes owners need more information ∞
A couple of Canadian lawsuits don't believe the recall goes far enough in making sure owners aware of the potential dangers, and in holding Denso and the automakers accountable.
Denso is accused of knowing about the problem since 2015. Meanwhile, automakers will have a hard time saying they were unaware of the issues considering the wide-range of owner complaints and warranty submissions.
Yet for some reason, the pumps continued to get installed and the recall wasn't issued until 2020.
Not only were owners put in unnecessary danger for those five years, they also experienced diminished resale values and out-of-pocket costs for diagnosis and quick fixes for rough-running engines.
Even now, owners aren't being made aware of the dangers the defective fuel-pump poses until it gets replaced in the recall.
USA lawsuit says the recall doesn't cover enough vehicles ∞
A few months after the recall, Subaru was sued for allegedly failing to include all the affected vehicles with Denso fuel pumps.
While the recall focused exclusively on 2019 models, the lawsuit believes the pumps can be found in vehicles going back to the 2013 model year. Additionally, it wonders why certain 2019 models, such as the Forester, weren't included.
The suit, Adnan, et al., v. Subaru Corporation, et al., believes there are an additional 188,000 owners at risk of suddenly stalling out and thinks Subaru should expand their recall or at least notify owners of potential problems.
Quick Notes About this Problem ∞
The higher density switch. Denso did not start using a filter with a higher density impeller until July 2019. Presumably that is what will be used in the recall.
It's not just Subaru. Denso supplied these fuel pumps to multiple automakers meaning nearly 2 million vehicles will need to be recalled.
Can't take the heat. It's been suggested that the problem is more common in southern states with higher heat and humidity.
The slow roll. We've seen multiple automakers say the problem typically only happens under 20mph. We don't buy it. There are multiple reports of engines stalling out at higher speeds.
Lawsuits Regarding This Problem
Lawsuits about this problem have already been filed in court. Many times these are class-action suits that look to cover a group of owners in a particular area. Click on the lawsuit for more information and to see if you're eligible to receive any potential settlements.
Lawsuit alleges a recall of 188,000 vehicles didn't include all the vehicles affected by Denso fuel pumps that can fail and cause the engines to stall. According to the plaintiffs, Subaru should reimburse customers the purchase prices of all models equipped with the low-pressure fuel pumps, including pumps with the part number prefix 42022.
Generations Where This Problem Has Been Reported
This problem has popped up in the following Subaru generations.

Most years within a generation share the same parts and manufacturing process. You can also expect them to share the same problems. So while it may not be a problem in every year yet, it's worth looking out for.
Further Reading
A timeline of stories related to this problem. We try to boil these stories down to the most important bits so you can quickly see where things stand. Interested in getting these stories in an email? Signup for free email alerts for your vehicle over at CarComplaints.com.
OK, Now What?
Maybe you've experienced this problem. Maybe you're concerned you will soon. Whatever the reason, here's a handful of things you can do to make sure it gets the attention it deserves.
File Your Complaint

CarComplaints.com is a free site dedicated to uncovering problem trends and informing owners about potential issues with their cars. Major class action law firms use this data when researching cases.

Add a Complaint

Notify CAS

The Center for Auto Safety (CAS) is a pro-consumer organization that researches auto safety issues & often compels the US government to do the right thing through lobbying & lawsuits.

Notify The CAS

Report a Safety Concern

The National Highway Traffic Safety Administration (NHTSA) is the US agency with the authority to conduct vehicle defect investigations & force recalls. Their focus is on safety-related issues.

Report to NHTSA