Owners File a Class-Action Lawsuit Over Subaru's Unintended Acceleration Problems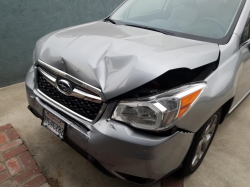 Subaru vehicles are accelerating on their own and the automaker's claim that owners are to blame isn't going over well.
A new class-action lawsuit has been filed on behalf of owners with cars that may have unintended acceleration problems. This includes the 2012-2018 Forester, 2015-2019 Legacy, and 2015-2019 Outback.
One of the lead plaintiffs says they were driving slowly with the foot on the brake pedal, and as they were about to shift into PARK the vehicle surged forward causing a collision.
The lawsuit alleges that Subaru has concealed the problem since 2011 and that dealerships routinely blame the drivers for mixing up the pedals or letting their floor mats get out of place.
It's the same thing Toyota used to say before they had to recall over 4 million vehicles for similar problems.
An increasing number of Subaru owners say their vehicles will inexplicably surge forward when the vehicle is stopped and their foot is on the brake. The unintended acceleration incidents often happen as the driver tries to shift the trans